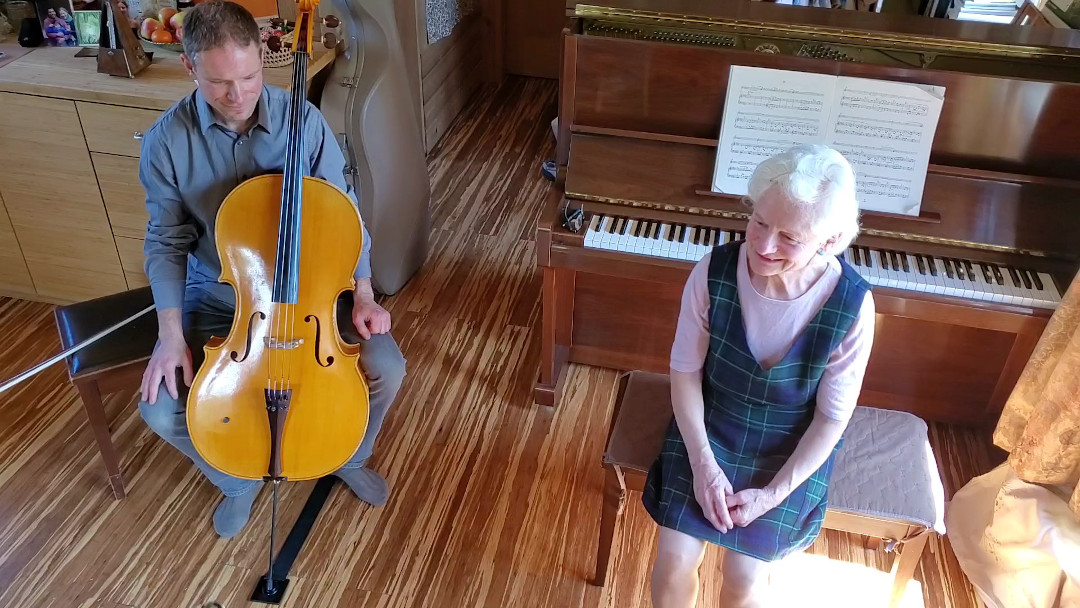 Concert Details
In homage to Beethoven on his 250th birthday, mother/son team Alena and Martin play music imbued with conceptual modes of expression, radiating clarity and transcendence.  Each of these B's were bursting with brilliant ideas; these noetic energies, distilled and embodied, become a tour de force of musical exuberance.
Concert programme
Suite n. 4 in E flat for unaccompanied cello, BWV 1009 J. S. Bach (1685-1750)
Prélude
Allemande
Courante
Sarabande
Bourées I and II
Gigue
Intermezzo in A major, opus 118/2 Johannes Brahms (1833-1897)
Capriccio in b minor, opus 76/2
Intermezzo in C major, opus 119/3
Sonata for fortepiano and cello in C major, opus 102/1 Ludwig van Beethoven (1770-1827)
Andante
Allegro vivace
Adagio -Andante
Allegro vivace
Intermission
Second Suite for Cello, opus 80 Benjamin Britten (1913-1976)
I Declamato
II Fuga
III Scherzo
IV Andante lento
V Ciaccona
Sonata for cello and piano in e minor, opus 38 Johannes Brahms (1833-1897)
Allegro non troops
Allegretto quasi Menuetto – Trio
Allegro
Bach 4th Cello Suite
Brahms e minor Sonata, opus 38
Britten 2nd Cello Suite
Brahms Intermezzi
Beethoven Sonata in C, opus 102/1
Due to COVID-19 restrictions, this performance is currently planned to only be available via a live stream. Your ticket will include a link to where you can watch the concert online. Should circumstances change and enable us to have an audience in the performance space, we will update this page.
Purchasing a Family or a Front Row ticket does not provide an enhanced online experience; however, it provides online audience members with the opportunity to show some extra support for their favourite local music groups who will be receiving over 90% of the ticket proceeds.
A purchaser of either a Family or a Front Row ticket will receive a photo of the concert poster signed by the musicians as well as a tax receipt. In addition, should a concert venue become open for live audience, a Front Row or a Family ticket holder will enjoy a VIP entry for one or two persons respectively.
All CMK concerts start at 7:30 pm, and will be streamed live. This concert will be available online until 10:00 pm (Pacific Time) on Friday, December 11th.
Featured Performers: Martin Kratky, cello; Alena Kratka, piano
Friday, December 4, 2020, 7:30 pm
This concert is being presented online.
After you have purchased your ticket you will receive an e-mail with a link to where you can view the concert.
Tickets
$15, $10 CMK Members/Students, $25 Front Row, $40 Family