Concert Details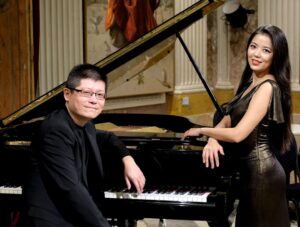 This beautiful and exhilarating program
of four hands piano features works by Beethoven, Schubert, and Mendelssohn.
PROGRAM
Eight Variations on a Theme by Waldstein, WoO 67
L. van Beethoven. Duo Beaux Arts
Rondo in the Hungarian Style, almost a Caprice, Op 129
L. van Beethoven. Tao Lin
Fantasy in F sharp minor, Op 28 F. Mendelssohn
Con moto agitato
Allegro con moto
Presto.
Catherine Lan
Marches caractéristiques, D 968b No 1
F. Schubert. Duo Beaux Arts
—Intermission—
Hungarian Dances No 1 & No 5
J. Brahms. Duo Beaux Arts
Fantasy in F minor for piano four hands, Op 940
F. Schubert. Duo Beaux Arts
Andante and Allegro Brilliante, Op 92
F. Mendelssohn. Duo Beaux Arts
Click here for the PDF version.
Here is a teaser from this concert performance:
Online tickets will be available for purchase until October 22nd.
You may view the entirety of this magnificent performance anytime and repeatedly until then.
To read a review of this concert by Leslie Hall, click here.
Thank you for your purchase.
This is from Duo Beaux Arts' website, of a previous performance:
Featured Performers: Duo Beaux Arts
Saturday, October 8, 2022, 7:30 pm
This performance can be viewed online or in the performance venue.
Kamloops United Church, 423 St Paul St.
When you purchase a live stream ticket you will be provided with a link to view the concert. It will remain valid for two weeks afterwards. In-person tickets may be purchased online or at the door.
Tickets
In Person: $25, $20 for CMK members, $15 for students. Livestream: $15, Student or CMK members $10, Front Row $25 (includes $10 donation), Family $40 (includes $10 donation).