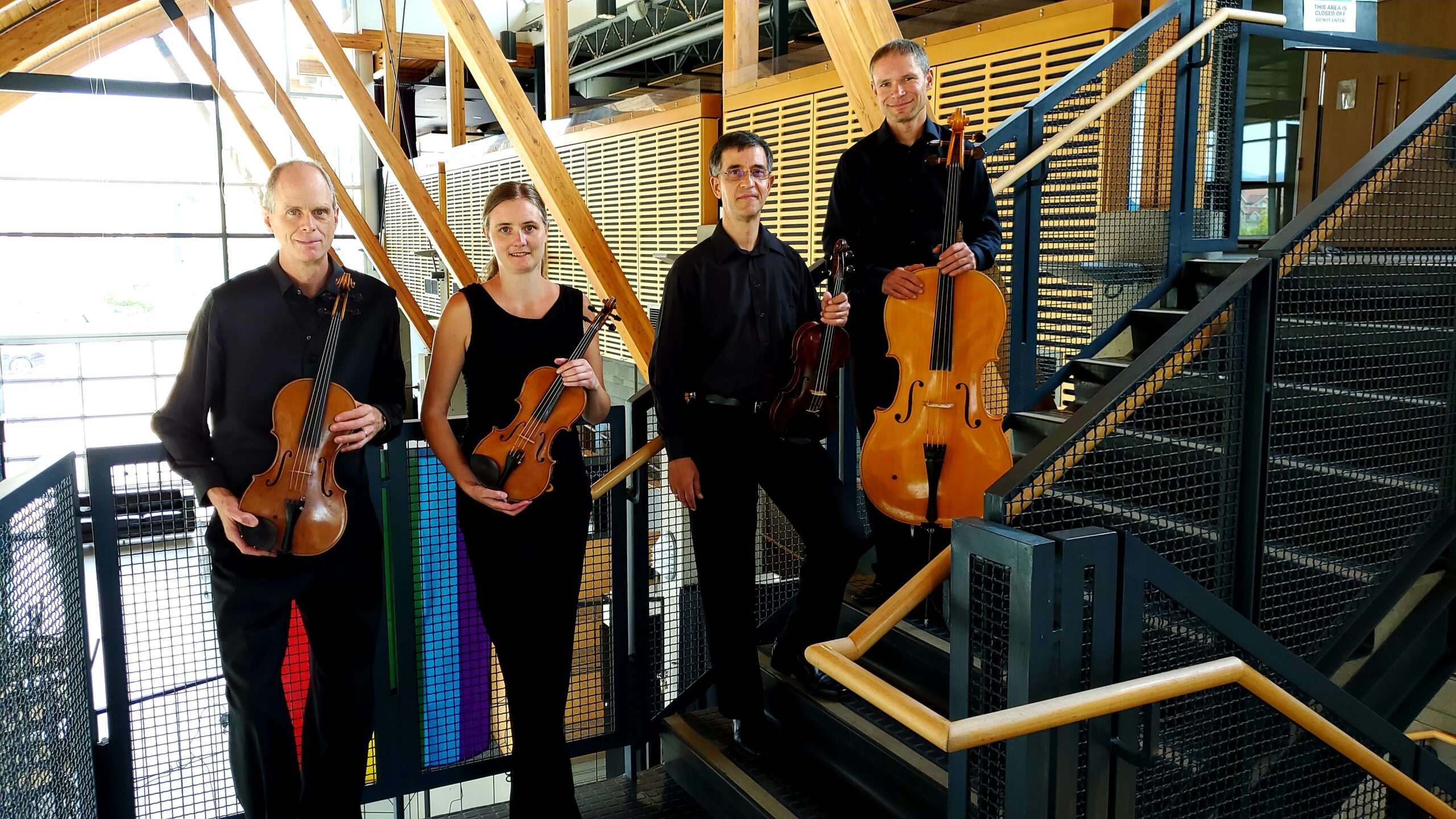 Concert Details
This concert is a tour de force, featuring music from France, Ukraine, and Estonia:
from the elegance of Joseph Bologne, Chevalier de Saint-Georges, to the "almost theatrical grimness" of César Franck's piano quintet.
This concert is being sponsored in part by the family of Marilyn Wiwcharuk.
Concert Programme:
Quartet in c minor, opus 1 n. 4 (1773) – Joseph Bologne (1745 – 1799)
Allegro moderato
Rondeau
String Quartet in memoriam Urmas Kibuspuu (1985) – Erkki-Sven Tüür (b. 1959)
I. ♩ = 80
String Quartet n. 1 in C major, opus 49 (1938) – Dimitry Shostakovich (1906 – 1975)
I. Moderato
Suite on Ukrainian Folk Themes, opus 45 (1944) – Boris Lyatoshynsky (1895 – 1968)
Andante
Andantino
Andante non tanto
Allegro scherzando
– Intermission –
Quintet for piano and strings in f minor (1879) – César Franck (1822 – 1890)
Molto moderato quasi lento – Allegro
Lento con molto sentimento
Allegro non troppo ma con fuoco
Here they are in rehearsal for this concert:
Here is a short teaser excerpt from this concert:
And one more:
A review of this concert, by Leslie Hall can be read here.
To view the 2022-2023 Series Concert Brochure click here (PDF).
Featured Performers: Sycamore String Quartet - Cvetozar Vutev, violin Sandra Wilmot, violin Ashley Kroecher, viola Martin Krátký, cello With Special Guest: Dimiter Terziev, piano
Saturday, September 10, 2022, 7:30 pm
This performance can be viewed online or in the performance venue.
Kamloops United Church, 423 St Paul St.
When you purchase a live stream ticket you will be provided with a link to view the concert. It will remain valid for two weeks afterwards. In-person tickets may be purchased online or at the door.
Tickets
In Person: $25, $20 for CMK members, $15 for students. Livestream: $15, Student or CMK members $10, Front Row $25 (includes $10 donation), Family $40 (includes $10 donation).