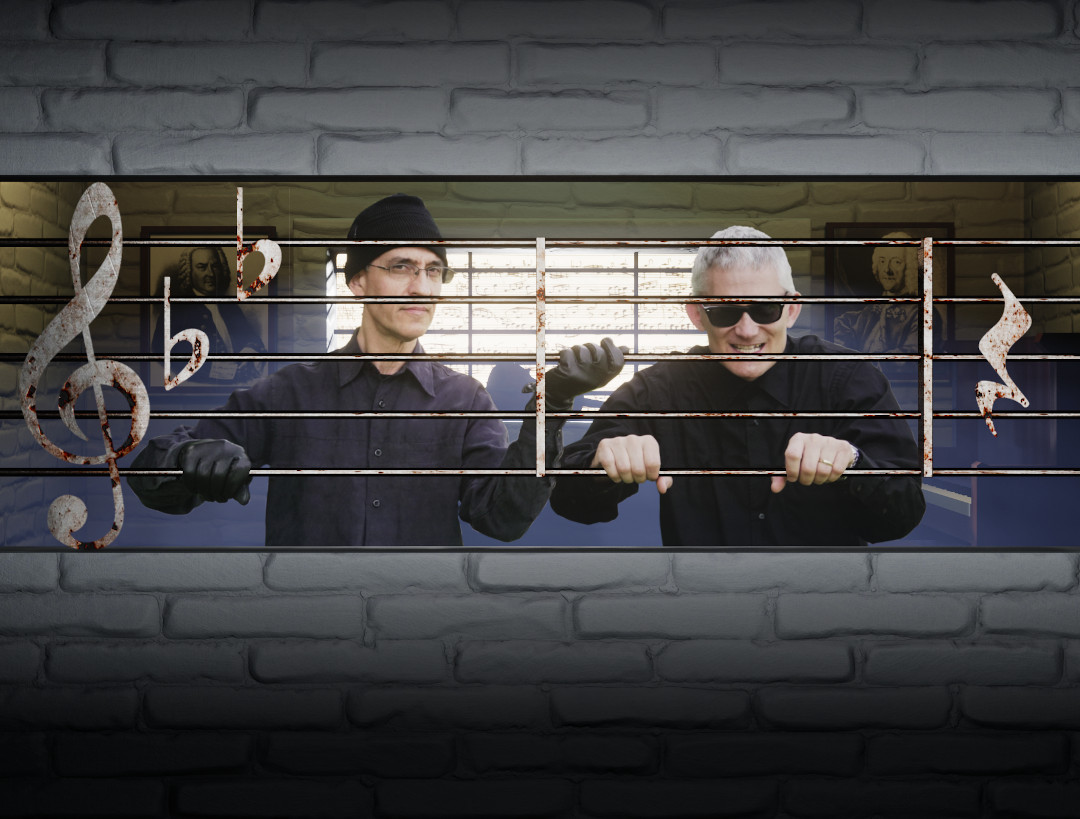 Concert Details
Music for viola, violin, and harpsichord by two of the greatest 18th century Baroque composers and good friends: J. S. Bach and G. P. Telemann.
Performers:
Leopold Mozart (1719 – 1787) – viola and violin ……………………………….Cvetozar Vutev
Carl Philipp Emanuel Bach (1714 – 1788) – harpsichord………………….Curtis Howell 
Programme:
J. S. Bach

(1685 – 1750) –

Sonata

for viola and harpsichord # 1 in G Major, BWV 1027
Adagio – Allegro ma non tanto – Andante – Allegro moderato
G. P. Telemann (1681 – 1767) – Overture for harpsichord # 1, in G-minor
Largo-allegretto – Larghetto e scherzando – Allegro
J. S. Bach – Sonata for viola and harpsichord # 2 in D Major, BWV 1028
Adagio – Allegro – Andante – Allegro
INTERMISSION
G. P. Telemann – Sonata for viola and harpsichord # 5 in A-minor
Largo – Allegro – Soave – Allegro
G. P. Telemann – Fantasia # 1 for violin solo in B Flat Major
Largo – Allegro – Grave – Allegro
J. S. Bach – Sonata for viola and harpsichord # 3 in G-minor, BWV 1029
Vivace – Adagio – Allegro
Program notes:
G. P. Telemann and J. S. Bach – "Partners in Crime"
Georg Philip Telemann (1681 – 1767) was born in Magdeburg, Germany. As a young child he took organ and voice lessons, and later he taught himself how to play violin, viola, cello, double bass, viola da gamba, flute, recorder, oboe, etc. Telemann studied Law at the Leipzig University (1701 – 1705) where he founded the secular music ensemble Collegium Musicum in 1702. He also became the music director of the Leipzig Opera House, and a cantor at St. Thomas Church. Telemann was a concertmaster and a kapellmeister in Eisenach (1708 – 1711), the home town of J. S. Bach. Telemann met J. S. Bach for the first time most likely while Telemann was still in Eisenach. At that time (1708 – 1717) J. S. Bach was a deputy-kapellmeister in Weimar, which is not far from Eisenach.  Bach likely came back to Eisenach and met Telemann while Telemann was a kapellmeister there (1708 – 1711), and later Telemann came back to Eisenach from Frankfurt, where he worked from 1712 until 1720, while Bach was visiting his family there, reacquainting Bach and Telemann.  In 1714 Telemann became the Godfather of Carl Philip Emanuel Bach (1714 – 1788), one of J. S. Bach's sons, who later also became a composer and a famous keyboard player. In 1717 the Duke of Weimar offered the position of kapellmeister to Telemann, but Telemann turned down the offer with the hopes it would be offered to Bach. Unfortunately, the vacant position was not offered. In 1721 Telemann moved to Hamburg, and became a general music director of the city, kapellmeister of the 5 main churches there, the music director of the Hamburg Opera and the Hamburg Collegium Musicum (not to be confused with the Collegium founded by Telemann).  In 1722 St. Thomas Church in Leipzig offered Telemann the position of a cantor, but he turned down the offer. The position was offered and subsequently accepted by J.S. Bach. Along with his work as a cantor at St. Thomas Church in 1729,  Bach took over the music director position from Telemann of the Collegium Musicum in Leipzig.  Bach composed and directed the group for about 8 years. Telemann retired from some of his positions in Hamburg in 1740 but he kept composing and performing his music until his death in 1767.
Along with many operas, oratorios, cantatas, and orchestral works Telemann composed an incredible amount of solo instrumental and chamber music. In Hamburg in 1735 he published his 12 Fantasias for solo violin, 12 Fantasias for viola da gamba solo, and 12 fantasias for flute solo. Also in Hamburg in 1739-1740 Telemann composed his 6 Sonatas for viola da gamba and harpsichord. He composed the very first concerto for viola and orchestra between 1714 and 1728. Later Telemann composed a concerto for two violas, and 4 concertos for 4 violas and orchestra. He also composed 6 Ouvertures for harpsichord solo (published in Hamburg in 1745), the first of which is being performed today.
While Telemann was friendly, lighthearted and accessible (as was much of his music), his personal life was difficult. His father passed away when he was only 4 year old. His first wife died two years into marriage, and his second wife had multiple affairs and left him with a large gambling debt which was more substantial than his income.  With the help of friends he was able to cover the debt.  He also took over the raising of his grandson Georg Michael after the early death of his eldest son, Andreas.  G. M. Telemann later became a close friend of C. P. E. Bach. Shortly after Telemann's death C. P. E. Bach was invited to take over the position of a general music director of Hamburg, with the help of G. M. Telemann.  C. P. E. Bach accepted the offer, and he remained in this position until his death in 1788.
Johann Sebastian Bach (1685-1750) was born in Eisenach, Germany. He was taught to play the violin and harpsichord by his father, Johann Ambrosius, a court trumpeter in the service of the Duke of Eisenach. Young Johann was nine when his father died, leaving him orphaned and taken in by his oldest brother, Johann Christoph, who taught Bach composition. Because of his excellent singing voice, Bach attained a position at the Michaelis monastery at Lüneberg in 1700. His voice changed a short while later, but he stayed on as an instrumentalist. After taking a short-lived post in Weimar in 1703 as a violinist, Bach became organist at the Neue Kirche in Arnstadt (1703-1707). His relationship with the church council was tenuous as the young musician often shirked his responsibilities, preferring to practice the organ. One account describes a four-month leave granted Bach, to travel to Lubeck where he would familiarize himself with the music of Dietrich Buxtehude. He returned to Arnstadt long after he was expected and much to the dismay of the council. He then briefly served at St. Blasius in Mühlhausen as organist beginning in June 1707, and married Maria Barbara Bach that fall. Bach composed his famous Toccata and Fugue in D minor (BWV 565) and his first cantatas while in Mühlhausen, but quickly outgrew the musical resources of the town. He next took a post for the Duke of Sachsen-Weimar in 1708, serving as court organist and playing in the orchestra, eventually becoming its leader in 1714. He wrote many organ compositions during this period, including his Orgel-Büchlein. Owing to politics between the Duke and his officials, Bach left Weimar and secured a post in December 1717 as Kapellmeister at Cöthen. In 1720, Bach's wife suddenly died, leaving him with four children (three others had died in infancy). A short while later, he met his second wife, soprano Anna Magdalena Wilcke, whom he married in December 1721. She would bear 13 children, though only five would survive childhood. The six Brandenburg Concertos (BWV 1046-51), among many other secular works, date from his Cöthen years. Bach became Kantor of the Thomas School in Leipzig in May 1723 and held the post until his death. It was in Leipzig that he composed the bulk of his religious and secular cantatas. Bach eventually became dissatisfied with this post, not only because of its meager financial rewards, but also because of onerous duties and inadequate facilities. Thus, he took on other projects, chief among which was the directorship of the city's Collegium Musicum in 1729 that Telemann created in 1702  (as mentioned earlier).  He also became music director at the Dresden Court in 1736, in the service of Frederick Augustus II; though his duties were vague and apparently few, they allowed him freedom to compose what he wanted. Bach began making trips to Berlin in the 1740s, one of the main reasons was his son Carl Philipp Emanuel served as a court musician there. In May 1747, the composer was warmly received by King Frederick II of Prussia, for whom he wrote the challenging  and symbolic Musical Offering (BWV 1079). Among Bach's last works was his 1749 Mass in B minor. Besieged by diabetes, and probably due to complications from a botched eye surgery attempt, he died on July 28, 1750.
J. S. Bach was better known as a virtuoso organist than as a composer in his day. His sacred music, organ and choral works, and other instrumental music had an enthusiasm and seeming freedom that concealed incredible formic structure. Bach's use of counterpoint and harmony was brilliant and innovative, and the immense complexities of his compositional style — which often included religious and numerological symbols that seem to fit perfectly together in a profound puzzle of special codes — still amaze musicians today. Many consider him the greatest composer of all time.
J. S. Bach composed his 3 sonatas for viola da gamba and harpsichord in Leipzig in the late 1730s and late 1740s, possibly with thought to the da gamba player Christian Ferdinand Abel, who was one of the court musicians of Prince Leopold; however, they are more likely from 
when Bach was occupied with the Collegium Musicum where these would be included in the performance repertoire.
  The writing for all three suggests a transcription of his own doing in that the harpsichord part is relentlessly polyphonic – two voiced throughout  – and nowhere genuinely keyboard-like.  Each Sonata has its own distinct character with Bach's unusual twists and references to other works long lost.  Individual movements bear resemblance to other sonatas or hints of the Brandenberg Concerti (BWV 1029 in particular).  All three sonatas have clear three voice construction where the gamba (in this presentation – the viola as it projects better), and the right and left hand of the harpsichordist each have distinct lines with surprising interplay.  BWV 1028 is thought to have been composed in conjunction with C. P. E. Bach to demonstrate an earlier era 'gallant' style composition – we will never know for sure.
The concert name "Partners in Crime" plays out on many levels.  Our two artists are not playing their respective primary instruments – definitely criminal.  They also have been friends for many years and have performed quite a few times together now.  Contrary to what was expected in Bach and Telemann's time, the artists are not playing any works written by themselves – also a crime.  As mentioned above, the composers selected for the concert – Bach and Telemann  – were friends and had the greatest of respect for each other personally and compositionally, and each respectively churned out an incredible amount of music – so Bach and Telemann were partners in crime.  While Telemann is in the Guinness book of records for being the most prolific composer ever in sheer numbers of works, Bach exceeds Telemann in scope and complexity.
All CMK concerts start at 7:30 pm, and will be streamed live. They will be available online until 10:00 pm (Pacific Time) on October 31st.
NEWS! We are thrilled to announce that there will be limited audience admission at this concert! TICKETS FOR LIVE AUDIENCE WILL BE SOLD AT THE DOOR ONLY!
Appropriate health protocols, including masks and social distancing, will be followed. Please bring your own masks!
Tickets for online audience: Press the BUY TICKETS button at the bottom of the page
Family $40
Front Row $25
General $15
CMK Members and Students $10
Tickets for live audience: Available at the door only
Family $40
General $25
CMK Members and Students $20
Free for children under 12
What is a Family and a Front Row ticket?
Purchasing a Family or a Front Row ticket does not provide an enhanced online experience;
however, it provides online audience members with the opportunity to show some extra support for their favourite local
music groups who will be receiving over 90% of the ticket proceeds. A purchaser of either a Family or a Front Row ticket will
receive a photo of the concert poster signed by the musicians as well as a tax receipt. In addition, should a concert venue become open for live audience, a Front Row or a Family ticket holder will enjoy a VIP entry for one or two persons respectively.
SHOULD YOU DECIDE TO PHYSICALLY ATTEND THE CONCERT AFTER PURCHASING ONLINE A FRONT ROW OR A FAMILY TICKET PLEASE SHOW UP AT THE VENUE NO LATER THAN 45 MINUTES BEFORE THE BEGINNING OF THE CONCERT!
Questions? Call us at 250 377 1880 or email chambermusiciansofkamloops@gmail.com
Featured Performers: Cvetozar Vutev, viola and violin; Curtis Howell, harpsichord
Saturday, October 24, 2020, 7:30 pm
This performance can be viewed online or in the performance venue.
Kamloops United Church, 421 St. Paul Street, Kamloops
After you have purchased your ticket you will receive an e-mail with a link to where you can view the concert.
Tickets
$40, $25, $20, $15, $10