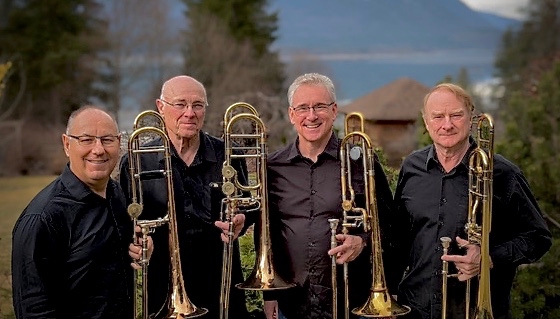 Concert Details
The "Slide Rule Trombone Quartet" is an exciting new brass chamber group centered in the Okanagan Valley. Comprised of Angus Armstrong, Wade Dorsey, Bob Rogers, and Gordon Waters, the group plays a wide selection of musical styles, including works by Bach, Mozart, Saint Saens, Ellington, the Beatles, Jobim and many more. Wade, Bob and Gord are long time members of the Okanagan Symphony Orchestra, and they also perform regularly in numerous other ensembles throughout the valley. Angus has recently relocated to Vernon from Ottawa, where he played for many years in the RCMP band as well as performing with numerous orchestras and other ensembles. Together they bring the rich, vibrant sound of the trombone to repertoire that is both familiar and new to listeners in a manner that is exciting, beautiful and always musical.
https://www.icloud.com/iclouddrive/0318wxHC_QKlZaRsTJGjEBM5g#Slide_Rule_Promo_-_1080WebShareName
Programme:
Achieved Is the Glorious Work, Franz Joseph Haydn – Donald Miller
Prelude in Bb Minor, Bach – Bob Siebert
Die Zauberflöte (Isis & Osiris), Wolfgang Amadeus Mozart – Ralph Sauer
No More Blues, Antonio Carlos Jobim – Kim Scharnberg
When I'm 64/Penny Lane, John Lennon/Paul McCartney – Bob Rogers
Sleepers Awake, Johann Sebastien Bach – Bob Rogers
Reflection Rag, Scott Joplin – Angus Armstrong
Cantiga Brasiliera Gilberto Gagliardi
Frippery #6, Lowell Shaw – Angus Armstrong
It Don't Mean A Thing, Duke Ellington – Bob Rogers

Intermission

Suite for Four Trombones, Flor Peeters
I Let A Song Go Out Of My Heart, Duke Ellington/BR – Bob Rogers
Locus Iste, Anton Bruckner – Angus Armstrong
Psalm XIX, Benedetto Marcello – Donald Miller
The Girl With The Flaxen Hair, Claude Debussy – Bob Rogers
Alexander's Ragtime Band, Irving Berlin – Jack Gale
Rakoczy March, Hector Berlioz – George Lotzenhiser
Brazil, Ary Barroso (BR) – Bob Rogers
You can read a review of this concert by Leslie Hall here, and here.
Here is a short teaser from this concert:
Featured Performers: Slide Rule Trombone Quartet - Angus Armstrong, Wade Dorsey, Bob Rogers and Gordon Waters.
Saturday, May 27, 2023, 7:30 pm
This performance can be viewed online or in the performance venue.
Kamloops United Church, 423 St Paul St.
When you purchase a live stream ticket you will be provided with a link to view the concert. It will remain valid for two weeks afterwards. In-person tickets may be purchased online or at the door.
Tickets
In Person: $25, $20 for CMK members, Free for students. Livestream: $15, CMK members $10, Front Row $25 (includes $10 donation), Family $40 (includes $10 donation).