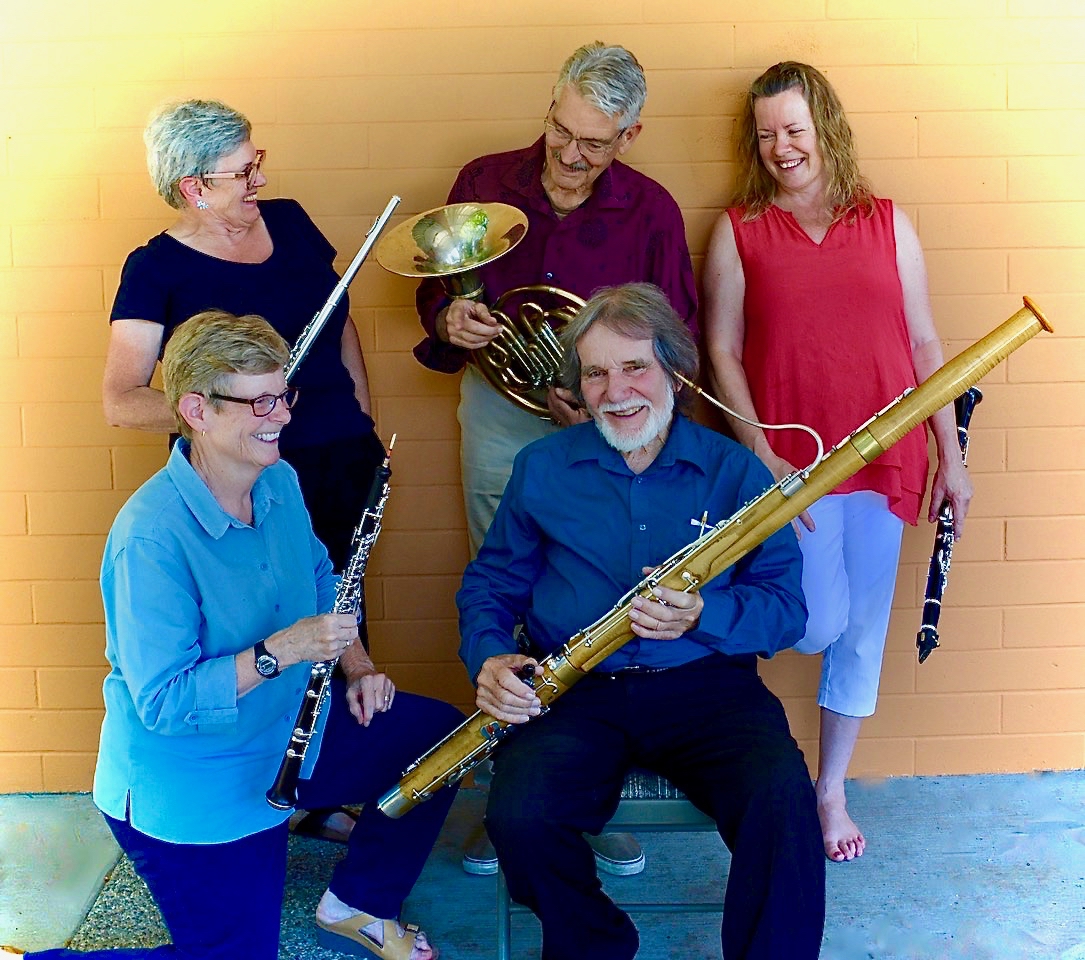 Concert Details
Windjammers Quintet will present a varied program of music which will include
short snippets played on early instruments such as buzzing crumhorns,
harmonious recorders, and a regal hunting horn. For the most part, the quintet
will use flute, oboe, clarinet, horn, and bassoon to perform pieces from the
major eras of western music; Renaissance to Modern, Romantic to Ragtime.
How wind music has changed! Each era provides a delightful treat for the
senses.
Winds of Change concert programme:
Passacaille by Adrien BartheEarly
Hungarian Dances from the 17th Century by Ferenc Farkas
Suite in G by Jean-Philippe Rameau
Divertimento No. 1 in B flat by Joseph Haydn
Menuet by Blas Maria Colomer
The Wellerman Comes arranged by Lars Ericsen
~
Waltz from Badinage for Horn and Clarinet by Matt Naughtin
The Chrysanthemum by Scott Joplin
Puttin' on the Ritz by Irving Berlin
Novelette in C by Francis Poulenc
Five Easy Dances by Denes Agay
Five by Five by Neil McKay
Umoja by Valerie Coleman
Get the concert program PDF here.
A complete Windjammers Quintet performers biography can be viewed here. (PDF)
Featured Performers: Wind Jammers Quintet - Janet Watson, flute Karen Gibbons, oboe Lucy Benwell, clarinet Edmund House, French horn Cuyler Page, bassoon.
Saturday, November 19, 2022, 7:30 pm
This performance can be viewed online or in the performance venue.
Kamloops United Church, 423 St Paul St.
When you purchase a live stream ticket you will be provided with a link to view the concert. It will remain valid for two weeks afterwards. In-person tickets may be purchased online or at the door.
Tickets
In Person: $25, $20 for CMK members, $15 for students. Livestream: $15, Student or CMK members $10, Front Row $25 (includes $10 donation), Family $40 (includes $10 donation).
Check out the event's poster